This post may contain affiliate links where I will earn a little bit of commission should you purchase anything at no extra cost to you.
Last weekend we took a trip down to London for a short break. The main reason for heading down was to see Beyonce at Wembley on Saturday evening, but it's such a trek for us that we decided to turn it into a long weekend.
I'm a big lover of London and would totally move there if it wasn't so far from family/friends and unbelievably extortionate in terms of the cost of living.
It's a city that I'm becoming more familiar with each year having visited twice last year and, so far, once this year. There's just so much to do, that a weekend leaves you feeling rushed, but we tried to fit in as many things as we possibly could with the time that we had.
Here's everything that we got up to whilst down visiting.
Arriving in London
Flying down after work on Friday evening sounded like a cracking idea to begin with until our flight got delayed, meaning that rather than arriving at 10pm, we arrived closer to 11 into Gatwick.
We hopped on the gatwick express to Victoria and after a couple of strategically navigated underground stops we arrived in Aldgate East travel lodge at around 12:55am.
As we were arriving so late on the Friday, I didn't see the need to book an extra night at our main hotel (The Hoxton Shoreditch) for the sake of a few hours in a bed.
The travel lodge was surprisingly great for what we needed it for, a bed for 8 hours or so.
Waking up and showering on the Saturday morning, feeling less than refreshed/awake we checked out around 9 and wandered up to catch the bus over to The Hoxton where we were spending the rest of the weekend.
Fully expecting to leave our luggage at the hotel not to get into our room until much later in the afternoon, we couldn't have been more impressed that there was a room ready and available for us. Top quality service from the team at the reception desk.
The Hoxton is by far one of the coolest looking hotels that I've stayed in before. It's as if they designed it with bloggers in mind to get loads of photos for their posts.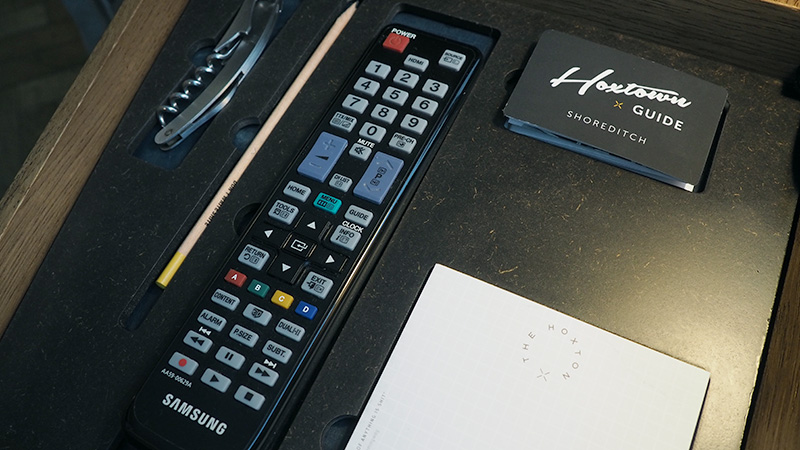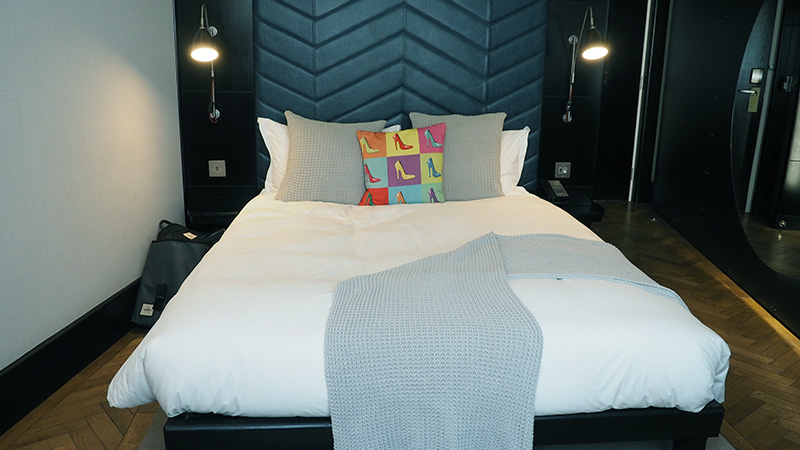 With a hip and trendy feel that fits in well with it's east London surroundings, it gives a cool vibe that you just don't get from accommodation up in  Scotland or at least not that I've found so far.
Opting for the "Cosy Room" we felt that there was more than enough space for two people to comfortably get around the room without getting in each others way.
We ditched our stuff after having a quick look around and taking some snaps of the room and hotel and headed off out to explore the city before the concert at night.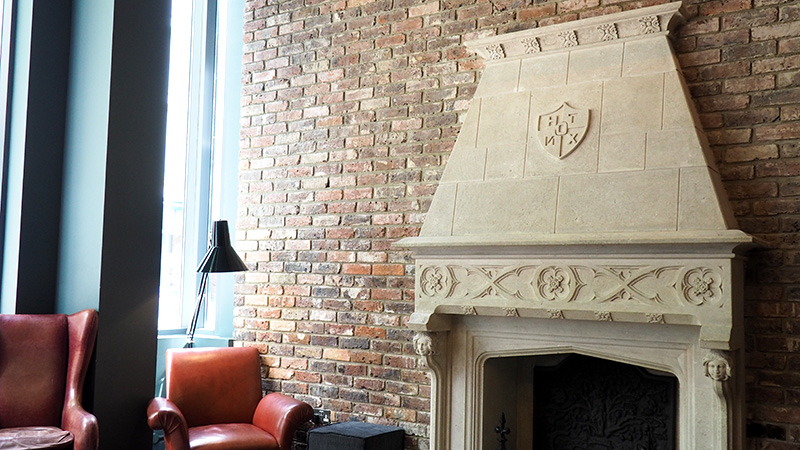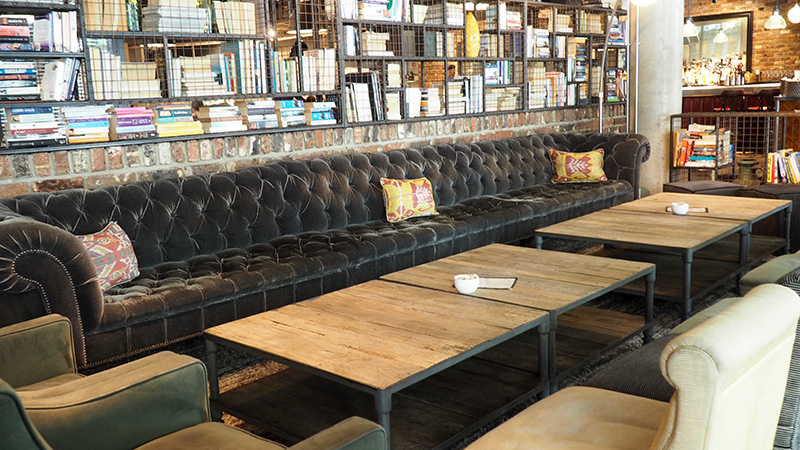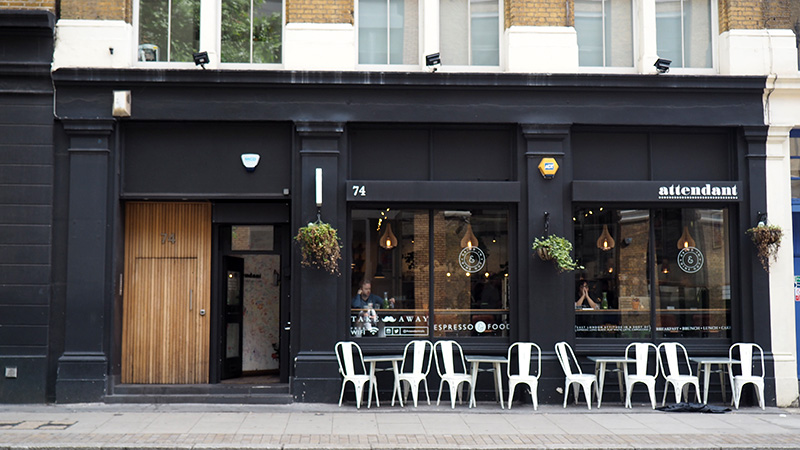 On the search for something to eat, I had researched nearby places before heading down and picked out Shoreditch Grind to start our day. This place had an almost 50's diner feel to the exterior and the crowds of people seated outside and in assured me that we made the right choice.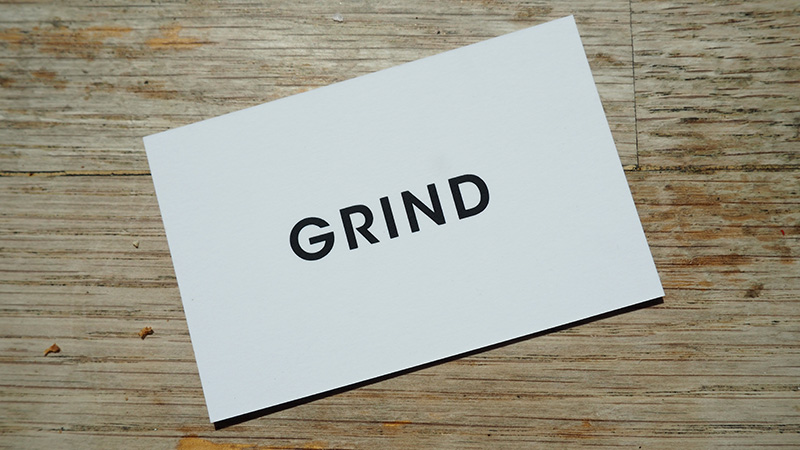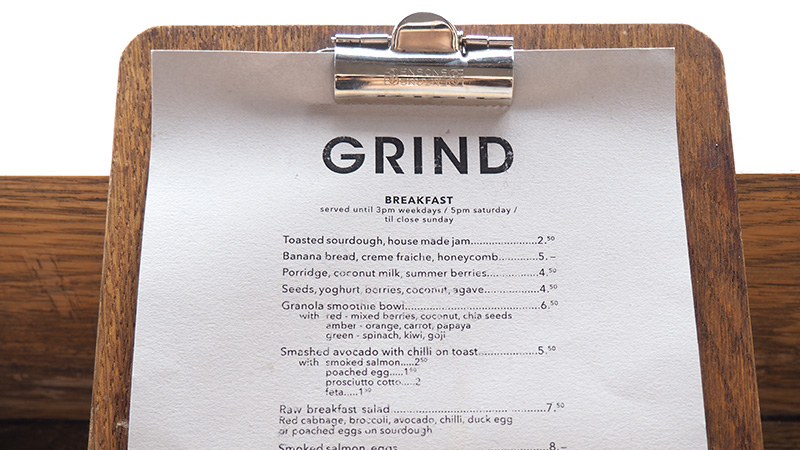 I love a good cooked breakfast, so ordered "The Grind" with scrambled eggs and a caramel latte. The food was great, even if my eggs were a little salty. It certainly didn't put me off leaving the plate emptied.
Luckily Shoreditch Grind is right above the Old Street underground station, so we hopped on the tube over to Camden. One of my favourite and most bustling parts of London. We've explored here a few times before, but always find ourselves heading back whenever down.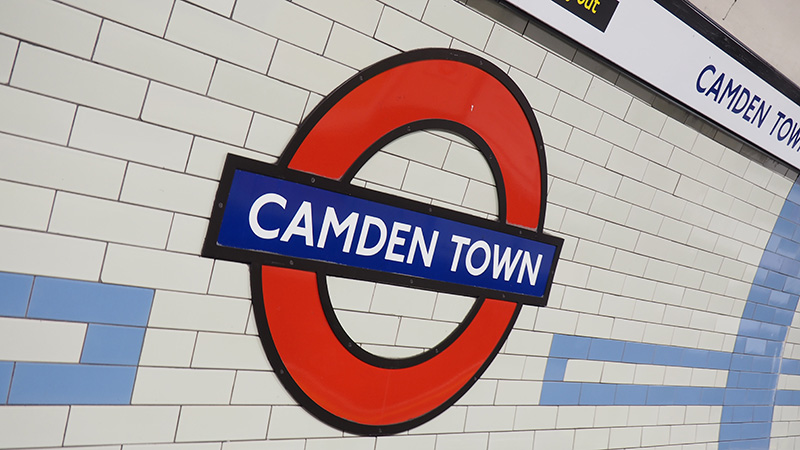 It's just such an alive part of the city that is overflowing with colours, people and things to overload your senses.
Taking a walk up the high street past all the usual shops, you have to make sure that you look up at the oversized models lining the rooftops.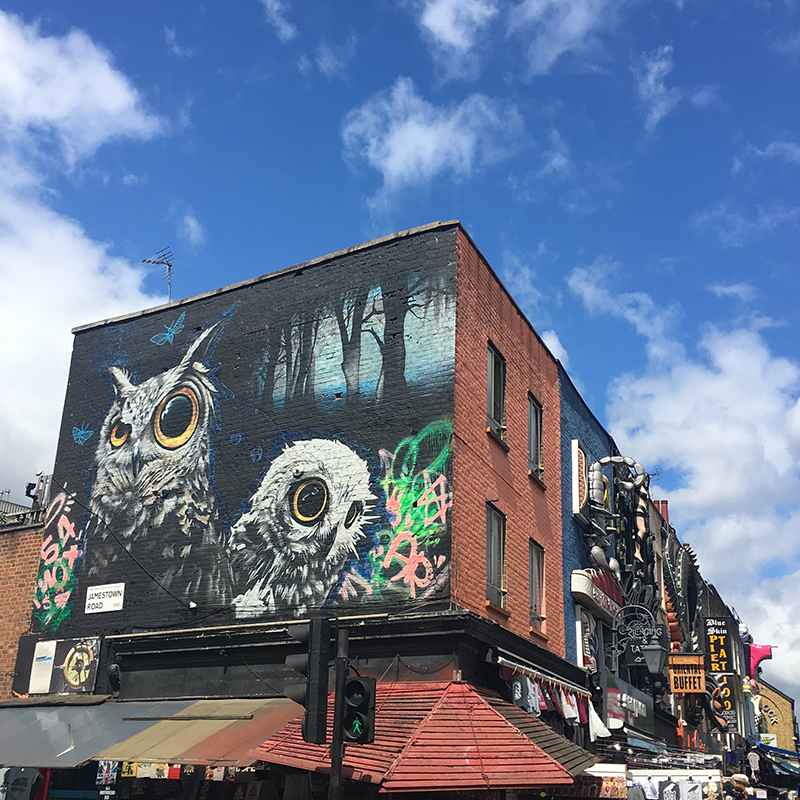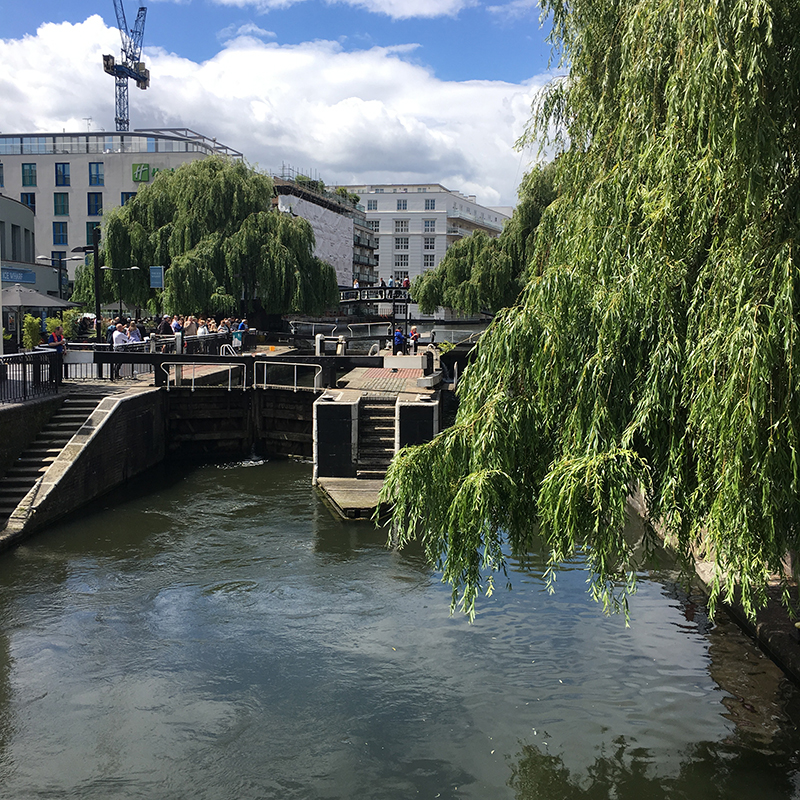 Wandering into Camden Market, you could pretty much have an entire meal for free if you wanted with the amount of free samples that get thrust in front of you from the food stalls.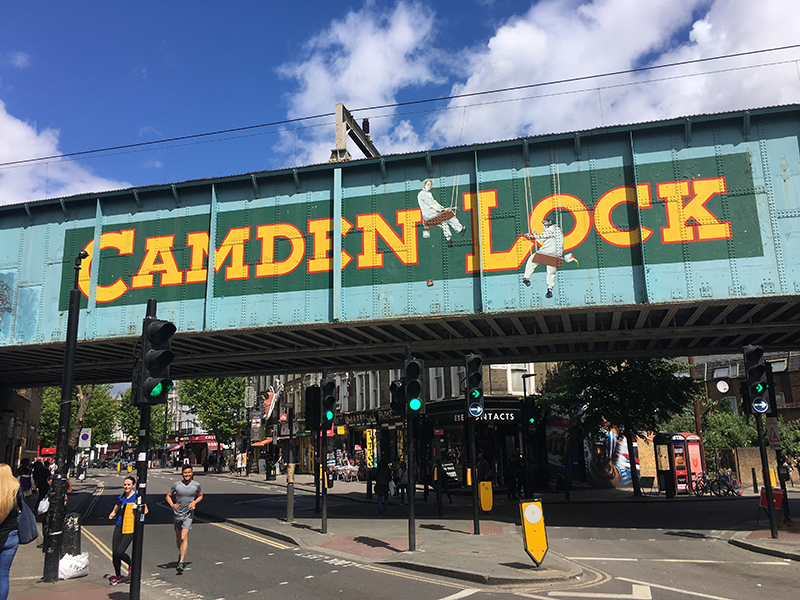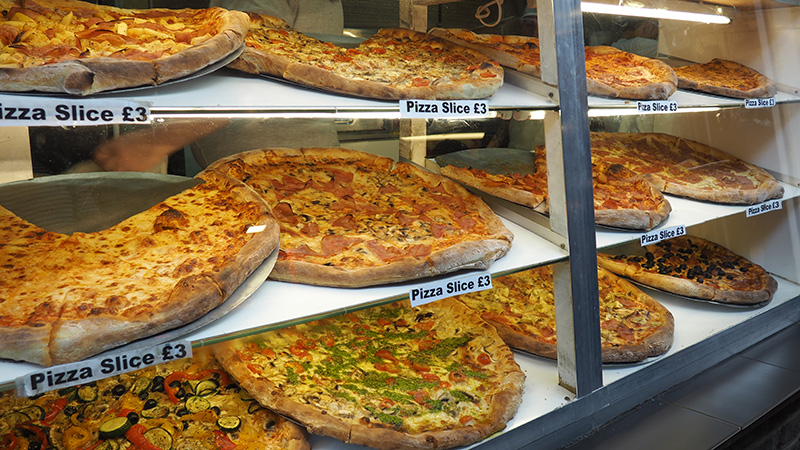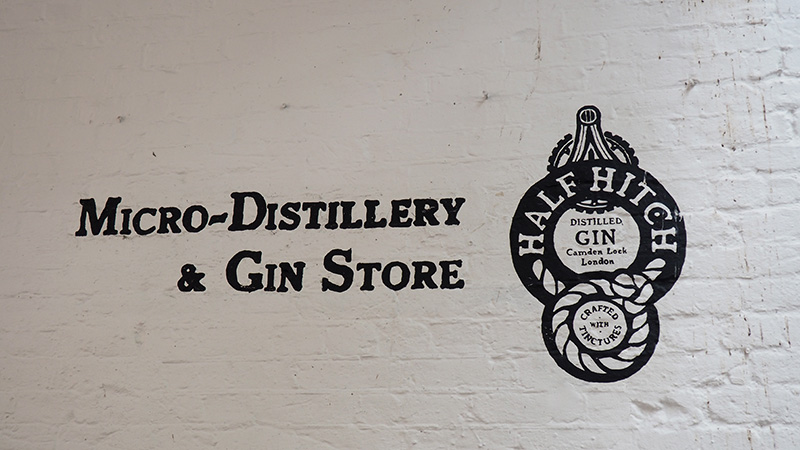 After spending some time walking around the markets and just engulfing ourselves in the atmosphere, we headed back into the city to have a look around the main shopping area of Oxford Street. A personal favourite of mine when ever we are down.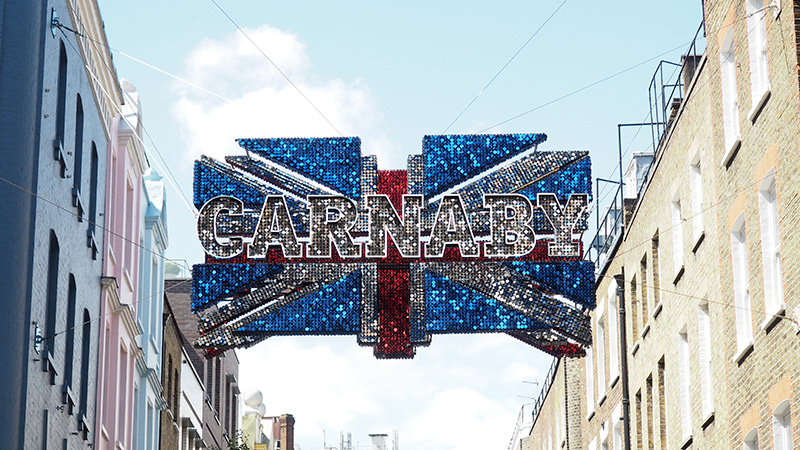 Sadly, no amount of shop-hopping appeared to turn up anything that caught my eye meaning that I returned home pretty empty handed. This would turn out to be a recurring theme on both of the other days that we went shopping.
Off to the hotel with extremely weary feet it was time to get ready to head to Wembley. Finally, after a year or so of trying to book a concert there only for the previous one to be cancelled and rescheduled to Milton Keynes Bowl thanks to Dave Grohl having an unfortunate accident a few days prior to their Foo Fighters show.
Anyway, we got ready and made our way out to the stadium which is incredibly impressive to see up close from the outside and even more impressive inside. It was kind of hard to get a real feel for the place as there was a lot of equipment that wouldn't normally be there if you were down for a football match, but the place is huge.
We had standing tickets, so made our way down to the pitch and as near to the front as we could get, which ended up being at the side of the stage, but given that Lauren is quite short, she would have had to watch most of the show on the monitors regardless of where we stood.
The stage was built into a T shape with us being at the left most edge of it in the hopes that Beyonce would make her way along to our side. She did just that.
Before I get to the main act, the crowd were warmed up by a DJ who wasn't the previously announced DJ Khaled unfortunately. Not too sure what happened there but it was just some guy on decks until a random appearance from Tinie Tempah who performed two songs, then left. It kind of felt a bit like an afterthought and a last minute call to support as if he were attending the show as a guest and asked to go on for five minutes.
Anyways the Beyonce show was incredible and yes although we did have to watch the majority of the show from the screens, we were treated to an up close encounter with the Queen Bey herself which was awesome.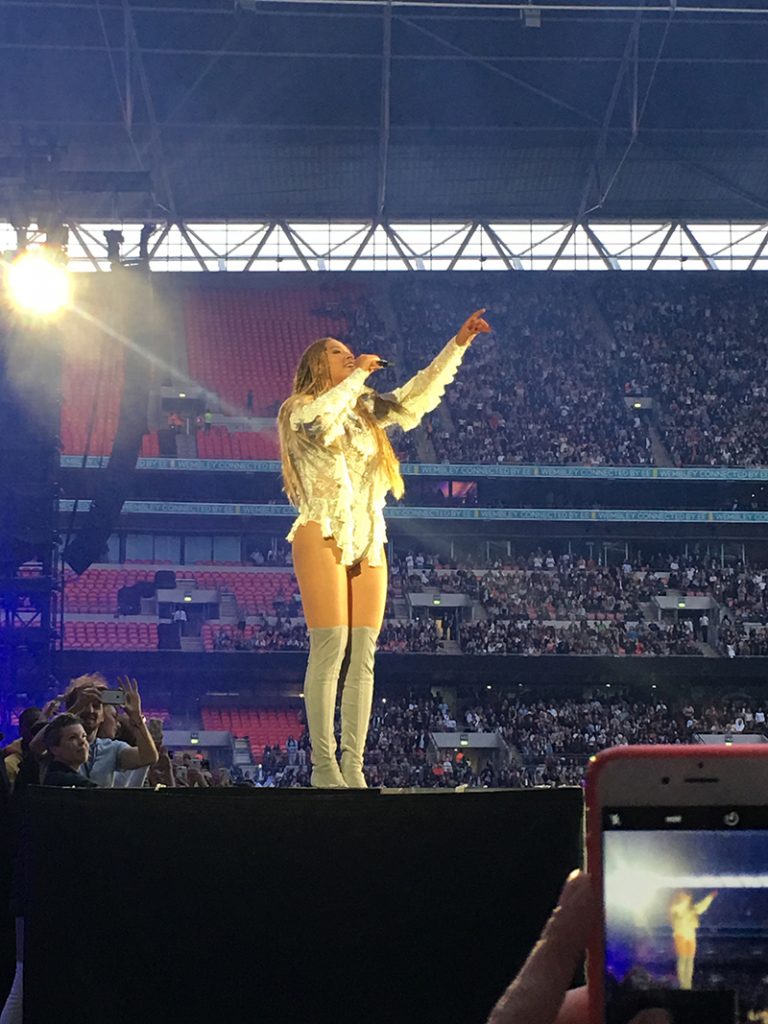 After playing for what felt like an eternity (not that the show was in any way boring, but after being on our feet all day we were knackered) the show ended and the swarms of people started to run for the train station to head back into the city.
Arriving back at the hotel, it was time to just kick off our shoes and collapse into the freshly pressed sheets to get ready for day number two.