This post may contain affiliate links where I will earn a little bit of commission should you purchase anything at no extra cost to you.
Growing your blog is tough. There's no pretending that it's as easy as writing some content and then BAM, floods of traffic start pouring in.
It's nothing like that at all. Or at least from my own experience.
I've been blogging for almost two years now and it's always been the same, you create a post, publish and then crickets. Maybe a couple of visits from Twitter if I'm lucky.
Nobody wants to start a blog with the hopes of connecting with others and helping others but not have anyone reading it. It knocks your blogging mojo.
Recently I started looking into ways that I can improve my traffic beyond the usual social channels and time and time again I've read that Pinterest is where the key to sustained and increased traffic lies.
I've never been able to crack it though. Until now.
Pinterest Results So Far
Up until the start of May 2018, my Pinterest traffic was non-existent. It was a site that I completely neglected or used for personal saving of ideas for trips or things I wanted to buy.
I read countless posts about how Pinterest was the key to unlocking sustainable traffic for bloggers and how some had built empires off the back of the traffic they receive from it.
I doubled down and learned as much as I could. Putting time in to learn what works.
Here's how things have progressed since I started.
My profile reach has grown dramatically.
Before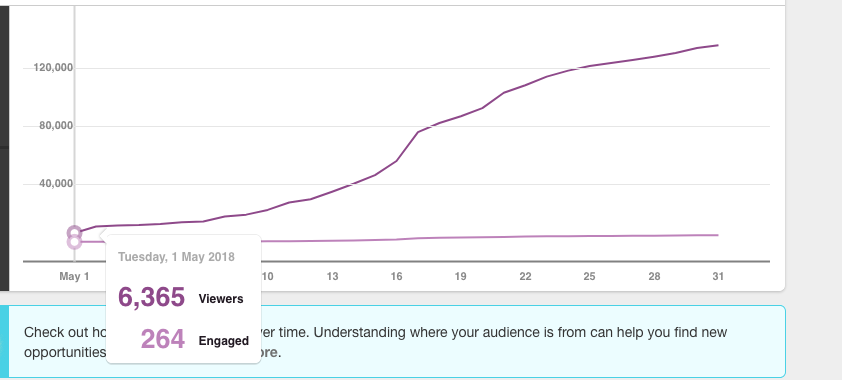 After

And it's still going up.
That's also translated into more blog traffic from Pinterest too.
Can you guess when I started implementing these tips?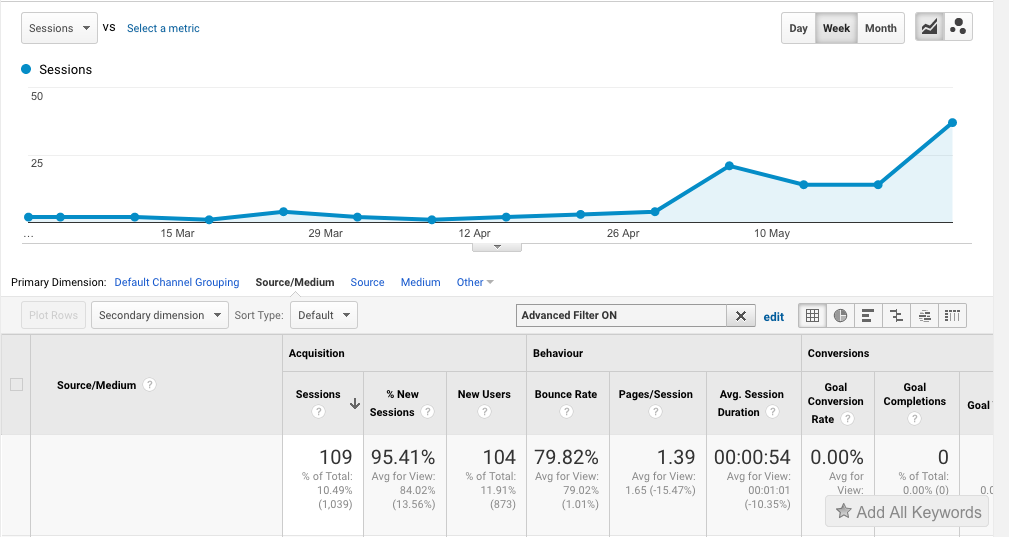 It's not a massive amount of traffic, but to add around 100 sessions in a month is a great start considering the traffic from Pinterest prior to starting to put effort in was minimal and it's still going up.
The great thing is that these pins exist and will be shared time and time again and keep traffic flowing to my site as time goes on.
So now you've seen my results, let's dig in.
What is Pinterest?
This may sound like a strange place to start, but in order to understand Pinterest you have to first change your mindset about it.
It's not a social network.
Well not really. It's a search engine!
Most people who visit pinterest are there to carry out searches for something they are looking for. Try it yourself by putting in a search term to the search bar on Pinterest and you'll be given a bunch of suggested search terms or extra terms to add on to your search and narrow it down even further.
So how does that impact how you should use it as a blogger?
Well as a blogger I'm pretty sure you'll have heard of SEO? It stands for Search Engine Optimisation and it involves making sure that your content contains information that you want to rank for in the search results.
Pinterest operates in a similar way, so you should be including your target keywords in your pin descriptions.
Let's have an example:
Say you've done a blog post about a trip to Croatia and you want to get it ranking in Pinterest.
Your blog post already contains information about Croatia and that's your source url or destination that you'll want the pin to link to. Pinterest is able to crawl that page and see what the content of that post is.
Your pin description should also give details of what the reader can expect by clicking on your pin whilst containing keywords around "Things to do in Croatia".
Now don't stuff your description with keywords, you want it to be readable by your target audience and make complete sense. Make it enticing for them to want to click through to read your amazing post.
By including your target keywords and having a pin design that draws users in, you're in a better position to appear at the top of the results for the keywords you're aiming for as well as related terms.
Another thing that helps your search ranking is relevancy. By pinning your pins on related boards you're telling Pinterest that this pin relates to this topic.
Don't go sticking pins for peanut butter recipes onto boards about hairstyles for curly hair. It just sends the wrong signals to Pinterest and will impact how you're placed in the results.
Followers mean nothing
Another thing that makes pinterest different is the fact that your follower number counts for absolutely nothing. Well maybe not absolutely nothing, but they don't need to be that big a part of your overall strategy like other networks do.
Pinterest populates the smart feed in a way that it shows your content from related topics and not based on what the people you are following are pinning. It will sprinkle in the odd pin here or there but it's not something that plays a major part in the way you use it.
There is also a feed where you can see things that your followers post, but it's not where you land by default on either the mobile or desktop version.
And remember Pinterest is a search engine so people are searching for things they care about.
So don't worry about your follower number. I'm currently sitting on 240 followers, but I'm reaching 138,000 people on average every month at the time of writing this post and it's constantly rising where my follower number isn't.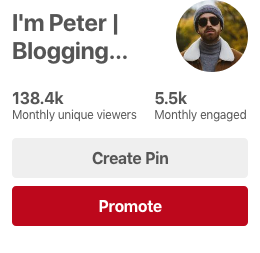 That follow/unfollow game that some of you play? It's for absolutely nothing. Stop.
Get yourself a business account
By turning your account into a business account you'll be able to verify your blog and get access to loads of analytics about how your profile is performing, how your website is performing and your audiences interests and other things that they enjoy.
This can not only be a great source of information for your current content but also help you to find things that your audience like that you could create more content around or have similar boards for things that resonate with them.
There's no point in me going through this whole process of how to set it up as Pinterest have got a nice interactive guide on helping you to set up a business profile whether you're completely new to the platform or already have an existing profile so go give it a read and follow the steps.
Pin Regularly
Being active on Pinterest is a must if you want to grow your profile. Even if it's five minutes here or there, just make sure you're actually using the site.
By taking some time every day to pin a few things you're telling Pinterest that you're an engaged user and I believe that they will look upon that more favourably than if you logged on twice a year and pinned one pin each time.
Now don't go wild just re-pinning everything and anything and then coming off.
Pin things that you think are quality pieces of content. Make sure that the links for things you are re-pinning work and go to the correct place and aren't just hijacked pins that direct people to a spam site.
Ensuring you pin quality content often that you and your audience will enjoy can help to boost your profile massively. This in turn helps when you're posting your own content with links to your blog, pinterest will know that your profile is high quality and give you a little boost.
Get Tailwind
No this isn't just another blog post from someone announcing that Tailwind is the savior of their pinterest account you can still smash Pinterest without it, but it does have some pretty good features that can help you out in growing your profile.
It's an app that I've recently started using and it's streamlined a lot of my pinning by letting me pre-fill a queue of pins that I want to pin to my boards throughout the day.
It doesn't do that automatically so I do still spend time making sure that I'm picking only high quality pins to re-share.
Tailwind just helps me spread it out a bit.
I still use Pinterest when I get a chance and just supplement the scheduled stuff with other pins on the fly.
If you fancy giving Tailwind a try then I would definitely recommend it as it's helped me free up some of my time to focus on other areas.
Tailwind Tribes
One of the top features that Tailwind has that is worth the monthly cost alone is your access to what they call Tailwind Tribes.
Similar to group boards, these let you find tribes that are centered around your topics of interest and share pins to them for others to re-pin to their own Pinterest boards.
This helps extend your reach even further by exposing people you may not normally reach to your content. Pair this up with pins that look great, a gripping headline that draws people in and you're onto a good steady stream of traffic.
Most tribes have rules where in order to share your own content to a tribe you must pin one or two of the content already in the tribe. It's a method that helps everyone get their content shared and one that I've found pretty valuable.
Create Multiple Pins for Posts
One of the things that I could never get my head around was making more than one pin for a blog post. I didn't want to be spamming my followers with the same content over and over again.
I always heard the advice of "Pinterest like fresh content" and avoided doing any more pins for a post because it wasn't fresh content it was just the same blog post. Then it clicked that when they mention content they mean pinnable content as in fresh pins!
This is something that I've only recently managed to grasp and honestly when it clicked it was like a lightbulb moment.
When I wrote a blog post about visiting Los Angeles, I had hundreds of photos to call upon.
Literally hundreds and all of those could be re-purposed into different pins with different headlines and different descriptions.
All unique and fresh content and although pointing to the same post they could potentially resonate with different people who could share it with their audience and so starting the ball rolling.
Now I wouldn't recommend just dumping them all on Pinterest at the same time, but by banking them and pinning them over the course of something like month you're feeding Pinterest with the fresh content that it craves.
The more content that you have on Pinterest, the more opportunity it has to be seen and shared and also clicked on which is the important thing that we're aiming for here.
Make it a daily or weekly task to create new pins for your evergreen content.
Join Group Boards
This isn't a new tip and it's probably one that you've read on hundreds of others blogs before. Joining group boards is still a great way to expand your reach.
Finding a good group board takes time, but simply by searching for keywords related to your content and looking for boards that match those terms you can find a number of different boards to join.
Look for boards that are accepting contributors and don't have thousands of people as contributors as these boards are usually spammed beyond any point of being valuable.
The best boards have less than 100 contributors and are closely related to your niche.
You'll find that getting a reply to your joining request can take a while if they ever actually get back to you, so join as many as you can because the success rate for getting added is probably 2 out of 10 requests.
If you don't hear back from applying after a month, then reapply by sending through another request. It could be that the board owner just missed your first email.
Use Hashtags
Yup, I still stand by my original statement that Pinterest isn't a social media network, but recently the addition of hastags has become a thing.
As far as I'm aware, it works in the same way as other networks where you can see topical content based on a hashtag and pinterest will actually suggest some tags for you when you're typing them out.
They are only really effective when added to brand new pins, so don't think that you can go back and add them into older posts. The hashtag feed is also chronological so it will be the freshest pins first and I do believe it gives you a slight boost within the normal search results for those terms too for a short while.
The goal here is to get engagement whilst the pin is still fresh to encourage more repins and clicks. This will probably work best with high searched terms.
Encourage Engagement
Encourage people to engage with your pin by making it enticing. Adding a call to action within your description to let people know that they will get the information they are looking for if they click through to your blog is a great start.
This is also where you want to be somewhat clickbaity but in a good way. Writing enticing headlines on your pins is a great way to draw people in so rather than writing things like "Beard grooming tips for men" maybe something like "10 easy tips to make your beard look amazing!", but make sure that what you're promising is delivered when they click through.
The Important First Five
Pinterest have come out and said that the first five pins that you post after midnight UTC are given preferential treatment over the rest of your pins during the day.
So if you are in the UK, this would be the first five pins that you post after 1am GMT that are given that little bit of extra exposure.
Pinterest will favour these pins and show them to your followers in the following feed. By strategically posting the pins that you want your followers to see, you've got more chance of generating engagement and clicks to your blog.
Now I know that you may not be a night owl, so this is where a tool like Tailwind can really help get your content posted at that time, although I would imagine that if you didn't post anything after midnight UTC until you got up in the morning, it would still give those first five pins the same treatment and doesn't rely on you posting exactly at midnight UTC.
Know your audience
By paying attention to your analytics you can get a deeper understanding of your audience allowing you to potentially find different types of content that they are interested in.

This can be a great source of inspiration for not only creating new boards and pins, but blog content too.
This doens't mean that you should go off creating content that is completely out of your niche, but if you can do something closely related or even just put a twist on things that you already create then you can be on to a winner.
Creating content that your audience loves will just help you massively with improving your engagement. Just make sure that it's something you actually care about too if you're going to write about it. Nobody enjoys reading content that sounds forced.
In Summary:
Tip 1: Treat Pinterest like a search engine and optimise pins for keywords
Tip 2: Don't focus too much on followers
Tip 3: Get your business account set up
Tip 4: Pin Regularly
Tip 5: Use Tailwind
Tip 6: If you do use tailwind, make use of tailwind tribes!
Tip 7: Create multiple pins for each blog post
Tip 8: Join group boards
Tip 9: Use hashtags
Tip 10: Encourage engagement using calls to action
Tip 11: Your first five pins are the most important of the day
Tip 12: Know your audience better with analytics
---
I think that pretty much covers everything that I have in my pinterest tactic box at the moment that I've found working for me.
Implementing these has helped so far to add a fair amount of engagement to my pinterest profile and driven a decent amount of traffic through to my blog that I can only see increasing over time as I add more and more fresh pins and content to Pinterest.
Hopefully these are actionable tips that you can put to good use in your own pinterest strategy and if you do decide to implement some of them I'd love to hear how they're working for you.
Leave comments below if you have any questions or if there are any tips that you think I've missed out. I'll be happy to chat about them further.
Oh and also, don't forget to repin this article if you found it helpful.
---