This post may contain affiliate links where I will earn a little bit of commission should you purchase anything at no extra cost to you.
Something that I've started trying to invest more time into is finding out how I can supplement my full time income with some extra money through online ventures. As I mentioned in my previous post that I've been moderately successful in the past with making money online and back in about November I decided to properly start putting effort into doing it again with the goal of tracking and increasing how much I earn.
It didn't really last long as I sort of slacked off the last two months but I think I'm back on it again and ready to double down and increase my efforts again because from what I've noticed, increased efforts directly correspond to increased earnings.
Why Publish Income Reports?
I'm not putting this online to brag or to show off, there's a few reasons that I want to start posting these.
Firstly I want to track my own progress to growing income through online methods and by doing things that I'm passionate about. That's really what this is for, so I can look back and see where I've come from and how I'm progressing.
Secondly I want to inspire others to take action and show that it is possible to earn money from blogging and that you just need to try. It all starts with creating your blog and just pouring your passion and energy into something you love that can make financial freedom possible. Others have done it, so why not you?
What My Goals Are
I'm not sure how far this will go and how much my earnings will increase but with these sort of things there are no real ceilings to the amount that you can earn from blogging and the likes. As long as there's an audience of potential buyers interested in what you're writing about then there will always be an income opportunity.
Ultimately the major dream would be to make enough money that it could almost be classed as an extra salary and allow a more comfortable life, invest more for the long term and the future should anything like what happened to me last year when I was made redundant. Having something to fall back on would be the best safety net imaginable.
I'd love to be able to earn enough to allow me to travel more and without hesitation. Online income can do that as I don't have to be doing something at the time to make some money. I can wake up in the morning and have made $50 for something that I created months ago.
The more content that I create, the more opportunity I have for it to be found by people through search and the more opportunity I have to make a bit of extra money.
Income Reports from Amazon Affiliates in April 2018
My main source of income is from blogging as mentioned before in the last post about how I make money online.
By creating content that answers a question that people are searching for around a product from Amazon I can provide them with the value and answer that they are looking for just before they are about to purchase.
So  I'll attach the screenshots to show what I've earned in the last month through Amazon affiliates program.
Amazon.com Affiliate Earnings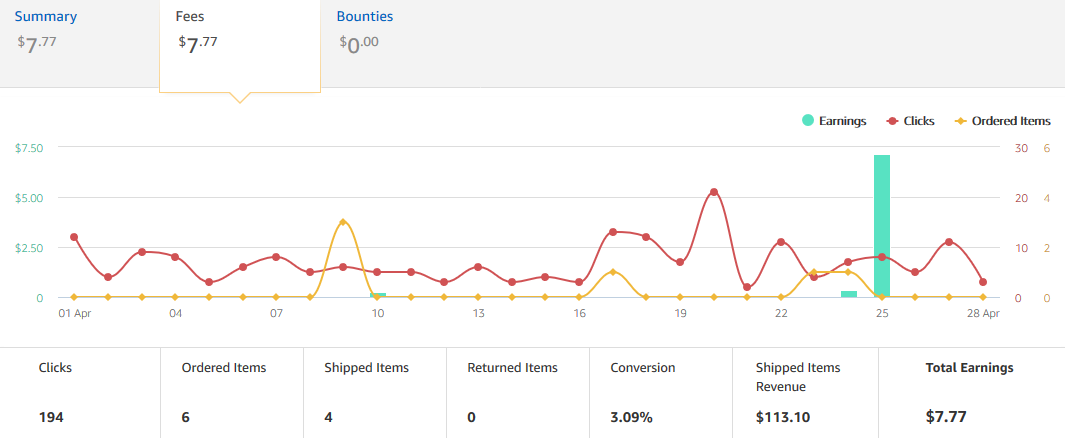 A bit of a quiet month this month and the earnings reflect that with only $7.77 income for the month. That should have actually been slightly higher as if you notice there were 6 items ordered but only 4 items shipped.
The other two items that weren't shipped were from an order totalling about $1000 meaning that had the customer not cancelled their order before shipping I would have had about $40 commission from that one order, but it wasn't to be and the customer probably found a cheaper price elsewhere or changed their mind. This is the first time I've seen this happen and having waited two weeks for those items to move to shipped, I've come to the conclusion that this is what has happened.
Amazon.co.uk Affiliate Earnings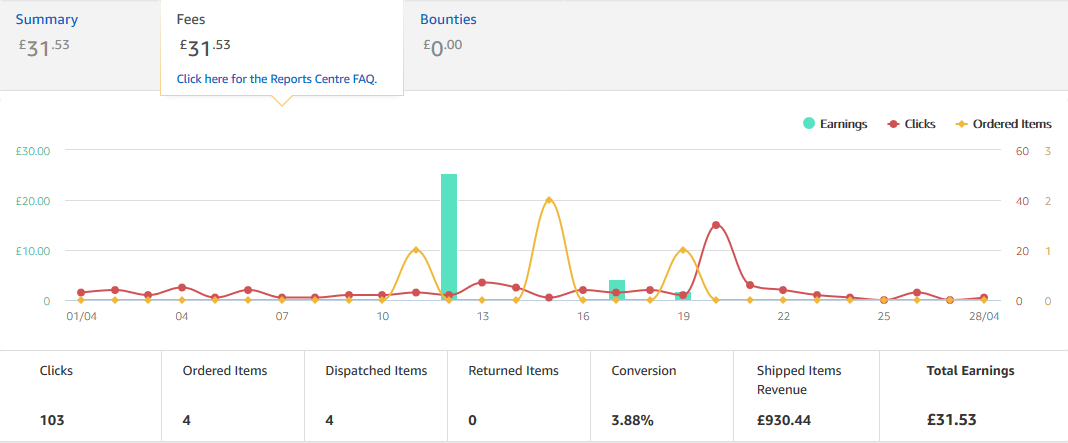 A better month on the UK amazon affiliates account with a nice £31.53 earnings for the month from 4 ordered items. I can't really complain about that as it's money that I wouldn't have otherwise had and I'm actually pretty pleased with the performance on the UK side of things this month.
Commissions on Amazon aren't really the greatest, I think it averages around 4% per item depending on the category that you're marketing, but it's reliable, well known and they sell pretty much everything you could think of giving you endless opportunities to make money.
Total Earnings converted to GBP – £37.17
As you can see not the most, but at almost £10/week it's money for pretty much nothing as once the content is done, it's there and it's ready to make you money should someone find it and convert so overall I'm happy.
Goals for May
This month I really want to increase my productivity. I feel like I'm back into my flow now and have managed to publish a few extra posts this week putting me back on track and into the mindset that I need to be to get the work done.
I'm going to aim to publish another eight posts next month to take the number of posts on the site from 30 posts up to 38, hell I may even push for 40 since it's a nice rounded number to hit.
I'm going to go back and pad out some of the other posts as I feel that they aren't really the quality that I want them to be and probably not up to the standards of getting them to rank above competitors in the google listings. If I want to be in with the big players then I need to bring my A-game where at the moment some of the content feels pretty rushed and lackluster.
So that's where I am just now. A slowish month, but I'm seeing money come in which is always a positive sign and reminds me that it is possible to make money online and if I want to increase that then I just have to work because earning more is possible too.
If you've got any questions then drop them in the comments below and I'll be happy to answer them. Are you trying to make money online, let me know how you're getting on.
Or if you're planning to start your own blog then why not check out the guide that I've put together on starting your own blog right here?