This post may contain affiliate links where I will earn a little bit of commission should you purchase anything at no extra cost to you.
I've heard talk of matched betting being a sure fire way to make money for years and have always intended on giving it a try but just never really got round to it.
This month I had spotted a few blog posts which re-ignited my interest again and thought I'd dig a bit further into matched betting and whether it really was worth it.
Well after three days and a total profit of £92.21 I'm happy to say that in my case it was and I'd recommend it to anyone looking to make a bit of quick cash on the side.
There are some things you should keep in mind before you start.
One of the major things being that you do need to have some money available to invest and get you started. I realise that this isn't something everyone has access to and you should never leave yourself struggling in order to make a few quid. Find other ways to make some money. This isn't for you.
Being honest,  it's always been the initial deposit that has put me off in the past.
Now that I've addressed that part, a good place to start is with an explainer of what matched betting is.
What is matched betting?
Effectively matched betting is placing two bets on the same event, for me it was football matches.
You would place a bet on one website for a certain result and then bet against that results on another website. So that you would lose on one site, but win on the other if that makes sense.
It's a bit more complicated than that and requires placing certain stakes and having certain odds, but when paired up with introductory offers that most bookmakers give you can actually make a little bit of money from the free bets.
How I got started
The place that I started my matched betting journey was a website called Profit Accumulator. With their free account they state that you can earn up to £45 on their free tier, so it seemed like the best place to get started.
One thing that I found when I started was that the free tier restricts you to Coral and Betfred, so if you already have accounts with either of these then you may not be able to take advantage of these.
The website guides you through signing up with these offers and has some fantastic explainer videos to walk you through every step. I highly recommend you take your time to watch the video and pause it when you need to complete a step. They'll definitely keep you right.
With the first offer I completed on Coral, I had to deposit and bet £5 to receive £20 in free bets.
Now you do have to take a loss on the initial bet, but usually it's only about 20p or so in order to qualify for the free bets, but you'll make back a lot more from the free bets that it just cancels that out.
Using the oddsmatcher calculator (pictured below) on Profit accumulator you choose a match that has a rating over 95 to ensure that you're not going to lose more money than you need to on the first bet.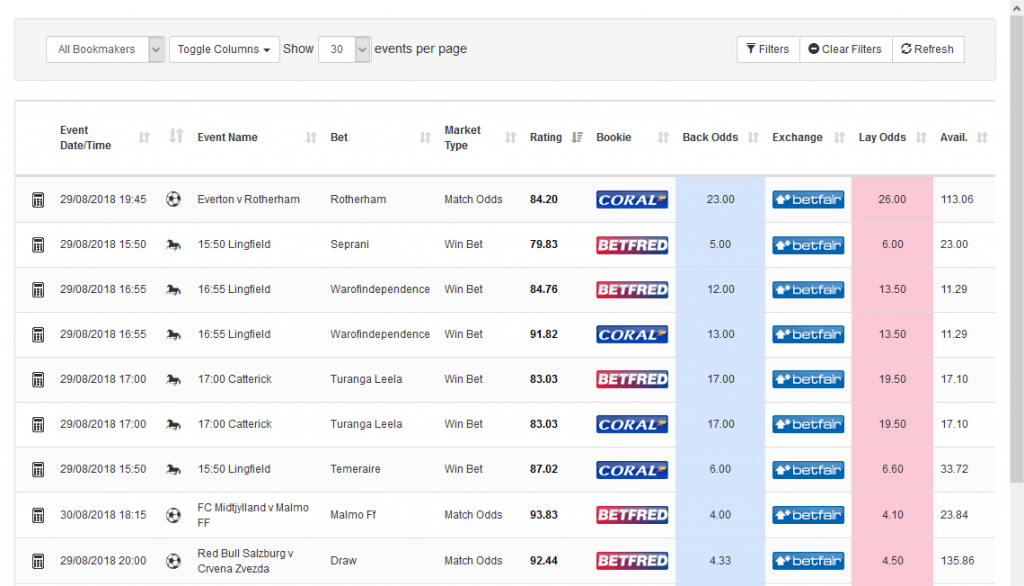 Placing the bet on coral for one result, you then place your lay (fancy word for betting against the other result) bet on an exchange site like Betfair.
Betfair was where I ended up depositing most of my money over the course of the week as you must have enough in your account to cover any losing bets on the betfair site.
Remember when I say losing bets, it's nothing to panic about because it means that you won on the other site. Confused yet? The videos explain it better than I probably do.
Once my initial bet was completed, I was credited with the free bets and this is where your first bit of profit is made. Out of the free bets, you can guarantee that you will take out profit from it either on Coral or on your Betfair account.
After completing the offer on Coral, I then moved over to do the betfred offer and carried out the steps on there to get some profit from that too.
This again is available to you on the free tier and you don't have to pay profit accumulator anything up to this point.
Now unfortunately, I didn't stop here and take note of my total profit from both of these offers, but I believe it was in the region of £30-£35.
Not too bad at all if you wanted to just stop there and a bit of easy money for you to withdraw to your bank account and call it a day.
Upgrading your profit accumulator account
Alternatively once both of those offers have been completed withdraw any money you have in your Coral and Betfred account as you're done with them, you then can upgrade your profit accumulator account to the next tier opening up more offers and a more thorough oddsmatching calculator with more bookmakers available to take advantage of.
The initial upgrade costs you just £1 for the first three days and then £17.99/month after that. I opted to cancel my account on the third day to maximise the profits that I gained from giving it a try as I didn't feel that it was something I would want to continue paying for at this moment in time.
There are plenty more offers within the paid tier that can help you get the most out of it, but I guess I'll round up with a table of my overall deposits across each bookmaker and the total money that I managed to get from each.
Here are my results for a weekend of matched betting.
| Bookmaker | In | Out |
| --- | --- | --- |
| Coral | £5 | £5.91 |
| Betfred | £10 | £0 |
| Sky Bet | £5 | £40 |
| 888 Sport | £10 | £17.50 |
| William Hill | £10 | £60 |
| Betfair - the exchange | £165 | £175.01 |
| Totals | £205 | £298.42 |
As you can see I had to deposit quite a bit of money in order to obtain the profit that I did, so it's not something that doesn't require some investment from yourself and it's not an easy way to make money if you have no money to spare.
Hopefully this shows you that it is possible to make a bit of money matched betting if you have the time and a bit of capital to invest. I would also recommend waiting until closer to the weekend to start the trial to make the most of it as you're more likely to have a wider range of football matches to bet on.