This post may contain affiliate links where I will earn a little bit of commission should you purchase anything at no extra cost to you.
Before we start, this experience was gifted to me, but all thoughts are my own.
Recently I was approached by the team at Red Letter Days and offered the chance to try out any of their experiences that they had on offer.
I was familiar with Red Letter Days from my time working in Argos, but if you're not familiar with them, they offer you the chance to buy a gift voucher for many experiences, staycations and trips.
Depending on the voucher, it lets the person receiving the gift the ability to arrange their own experience from many different choices of location around the country.
I'm not one for driving fast cars or doing a bungee jump so I opted for something a little less extreme and chose an overnight stay in a Scottish Castle.
I love a trip away so this was the perfect excuse to try visit a location that I haven't been to in a while.
Booking us in for an overnight stay at Carberry Tower in Musselburgh was effortless. Picked up the phone, chose the day I wanted to stay and that was it. All I needed to do was present my voucher when checking in at the hotel.
Arriving at Carberry Tower in the pouring rain didn't dampen our spirits and making our way up the long driveway to the front of the castle just took my breath away.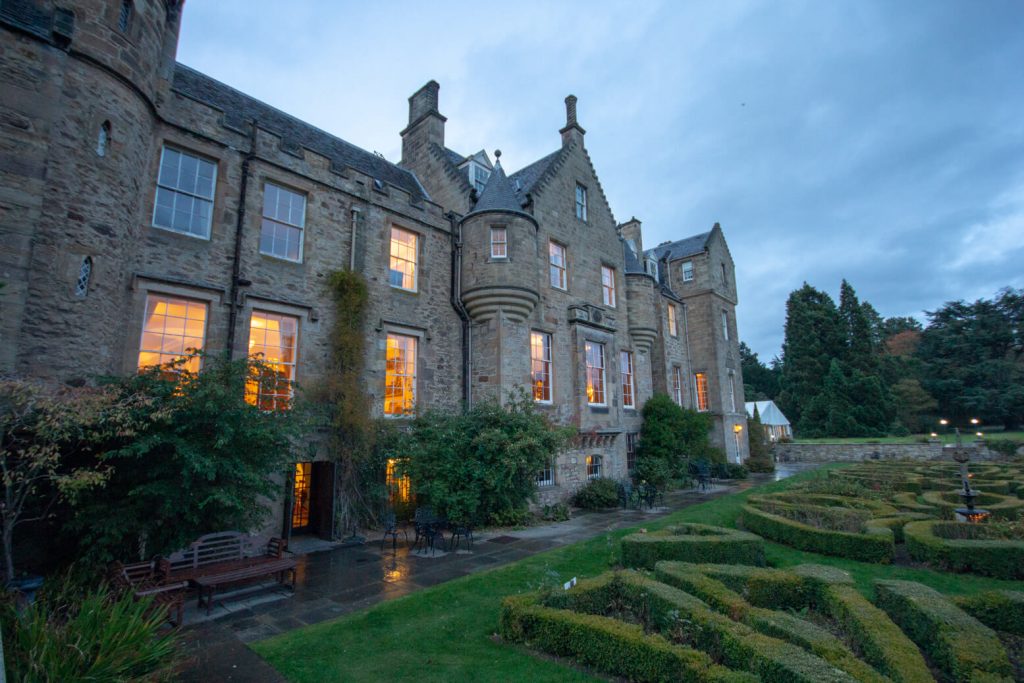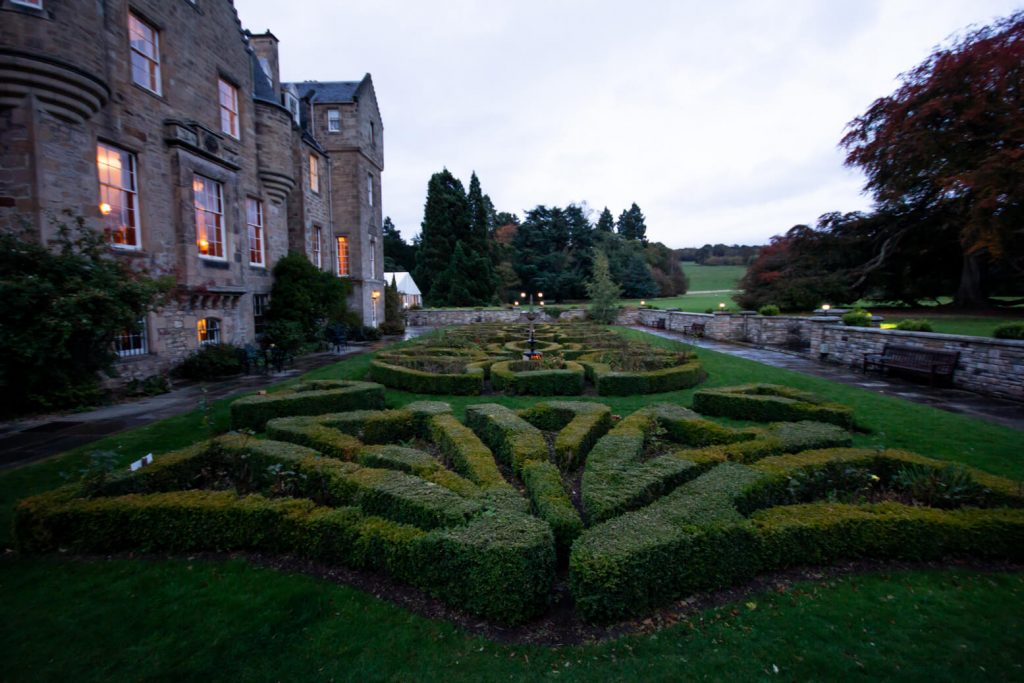 I love castles and getting the chance to stay in one was definitely something to be excited about.
Checking in was easy and the staff were extremely friendly and helpful.
We were given our keys to the Caerbairn Suite and off we went to investigate our room.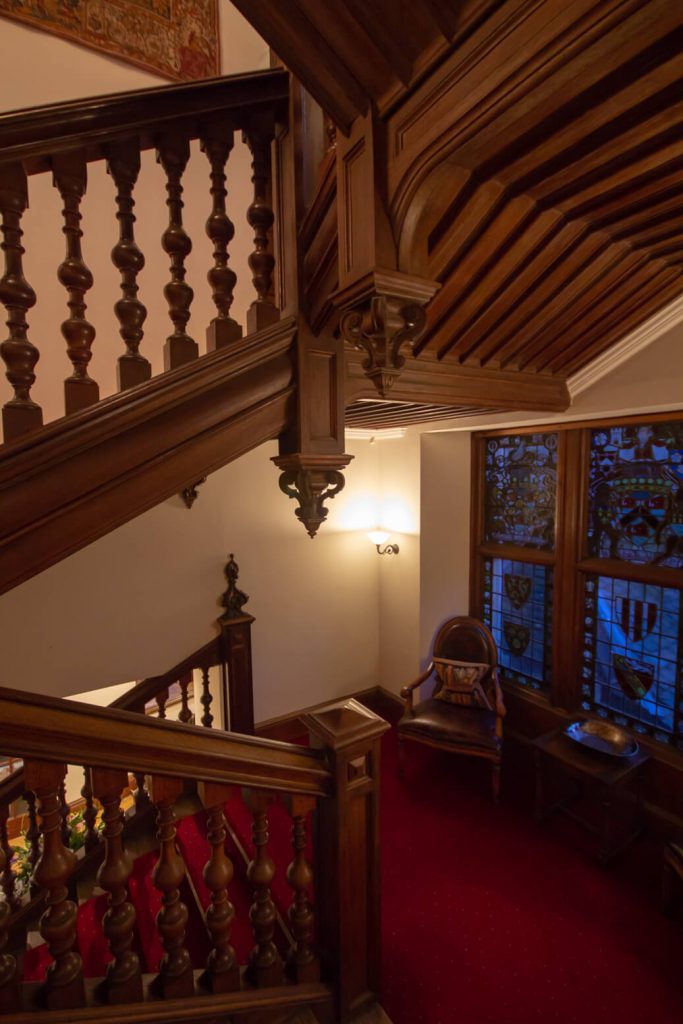 Walking up the grand staircase and through a couple of tunnel like corridoors we opened the door to our room to be greeted by a huge bed, stunning views over the grounds and a treat of chocolate covered strawberries to munch on.
I was knackered after driving for a lot of the day so obviously flopped down on the bed which wasn't too soft and not too hard. Perfect for me.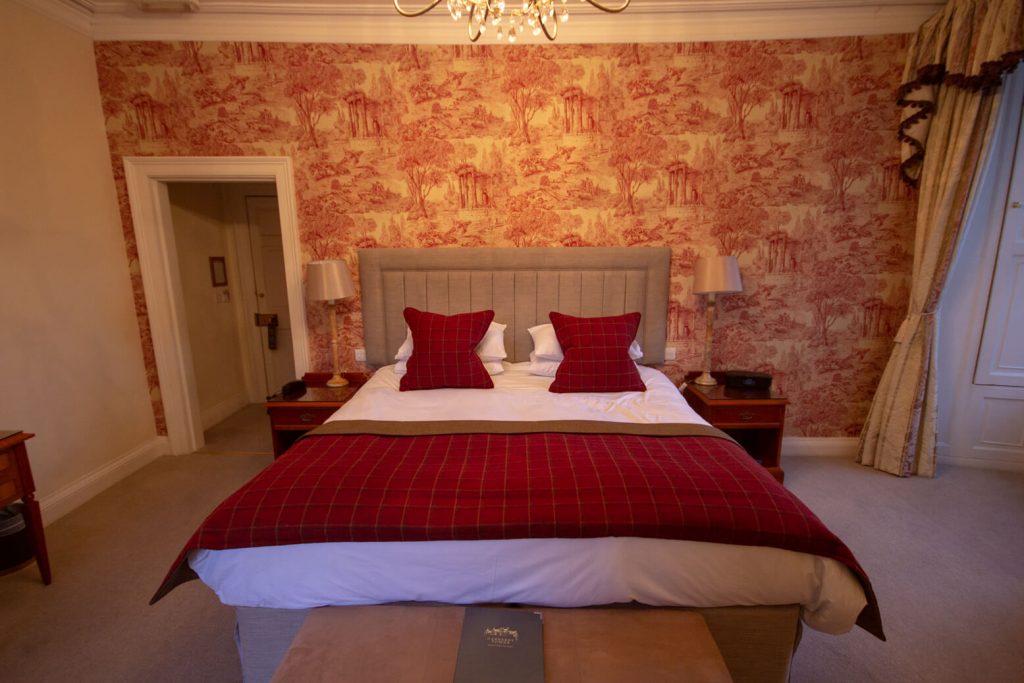 One of the things that surprised me about the room was just how quiet it was.
With old buildings you would expect the wind and noise to be a lot louder through the windows but we literally didn't hear a thing which made for a great nights sleep.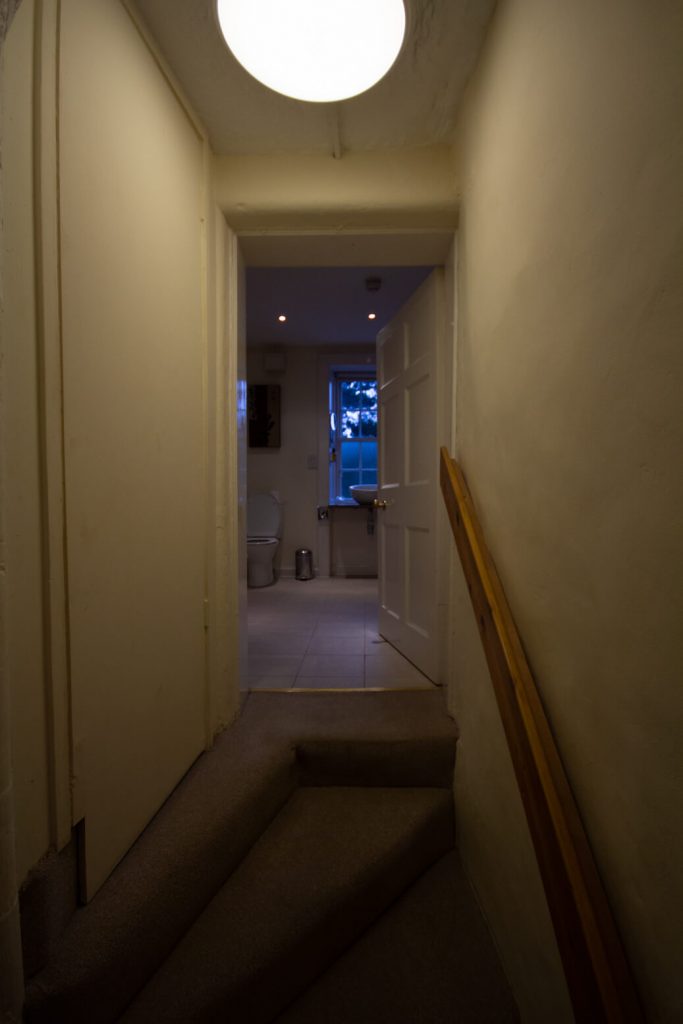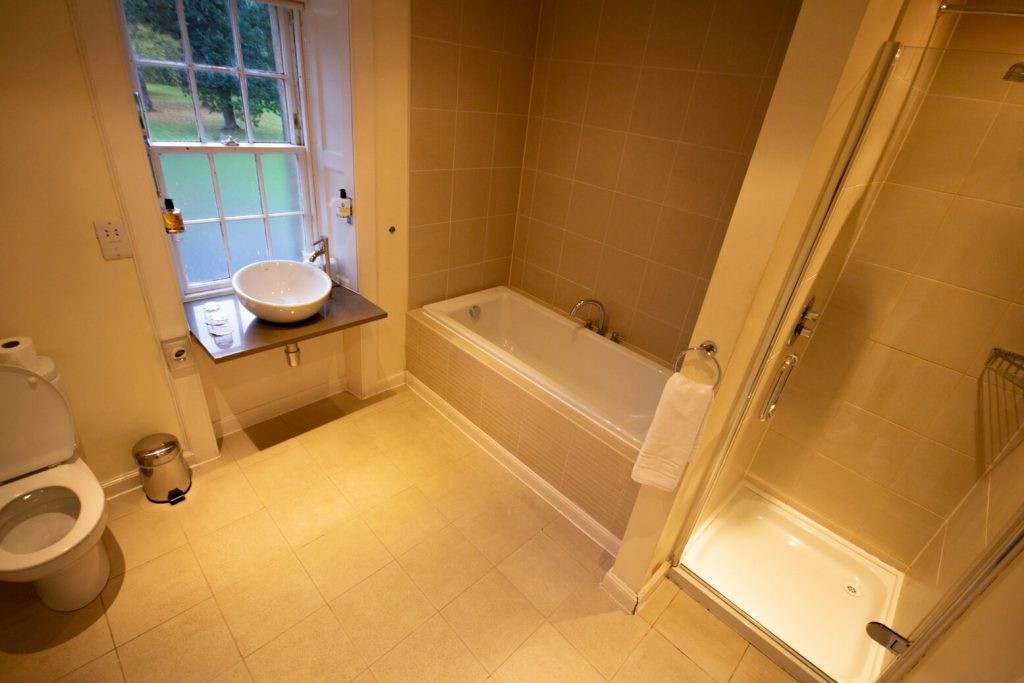 The bathroom was hidden away at the top of a small flight of stairs off the room which had a pretty low ceiling meaning I had to duck going up and down.
Everything in the room was modern, but still hadn't taken away from the fact that you were living in an old building. It was quite a good mix.
Exploring the rest of the building was great fun too.
There were two huge libraries where you could just grab any of the books and take them back to your room if you fancied a read.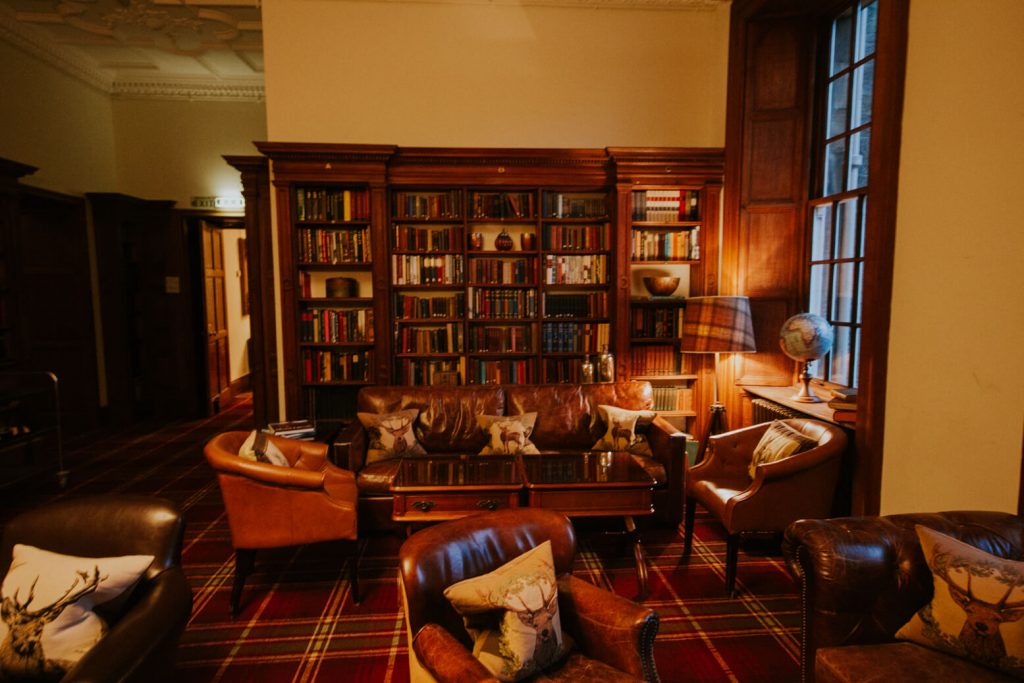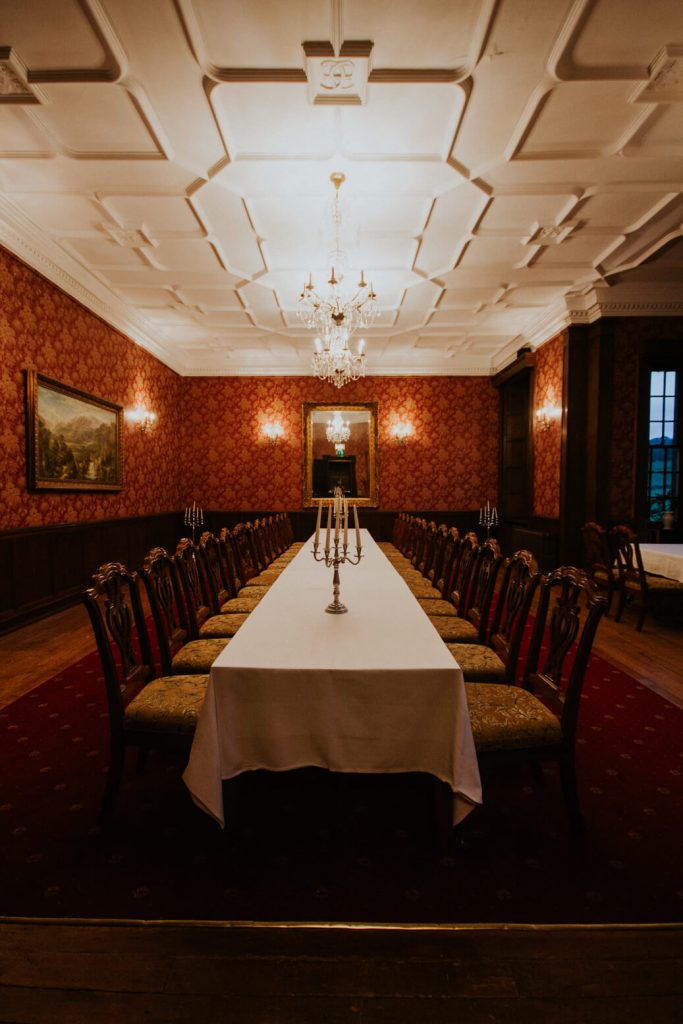 Plenty of little whisky bars. A snug area with pool table and chairs if you fancied just chilling out with a game of pool and huge grounds to explore although it was a bit too wet for us to go out and wander around outside.
We headed off to bed after exploring to get well rested for a day of exploring Edinburgh in the morning.
Although breakfast was included in our stay, we opted to skip it and grab some food in the city as we wanted to make sure we did as much as we possibly could on our trip.
Overall our stay at Carberry was definitely worth it and the experience with Red Letter Days made it so easy to organise.
It also gave us the chance to stay somewhere we would never probably have found otherwise, so a big thank you to them for making the trip possible and to Carberry Tower for the excellent stay.