This post may contain affiliate links where I will earn a little bit of commission should you purchase anything at no extra cost to you.
I'm shit with new year resolutions. I've been so bad at them that I don't even set them anymore. The only one I have ever stuck to was to start going to the gym five years ago.
I'm not one for new year, new me style changes, but I do like setting goals. Whether it's a mini goal or a major goal. It gives me something to move towards and aim for.
After having a pretty awesome 2016, I have decided that I want to make 2017 even better and set even more goals for myself than ever.
So here goes:
Blog Goals
Increase categories
This year I want to broaden my writing by increasing the number of different things that I include on my blog. Bottling myself into the category of a male fashion blogger can be an incredibly expensive road to head down. Especially if you're having to buy new items of clothing in order to create new content around the latest fashion trends and being honest, I just can't afford it sometimes.
My plans so far are to add in a few extra categories including Blogging & Social Media where I'll be writing about my tips and advice for growing your blogging engagement on different networks and my experiments with different advertising platforms. My day job is in Digital Marketing so it makes sense to help others with things that I do on a day to day basis.
Another passion of mine is Photography so I want to include posts where they may not have a purpose other than to show off some of the shots that I've taken recently.
Increase Content Frequency
There are times that I've gone almost a month without posting anything and I don't want to let that happen in 2017. Whether it's a blog post, or some photos or a regular youtube video, I plan on creating content all the time. Not just any old content though, I want the stuff that you're reading/watching to be great quality and enjoyable.
Youtube Growth
My youtube channel is incredibly new. So new in fact that you might not even have noticed that I started one.
I've dabbled in youtube videos before, but always found that I didn't have the time to keep it up. This time I'm determined to keep at it. Whether creating stand alone videos or videos that supplement my blog posts so that you can consume the same content in either video or written form.
I'm excited for this part and definitely can't wait to see how I get on.
Why not give me a hand and go subscribe? It would mean the world to me.
Instagram
I love instagram, even for all the flaws that it has. It's still my bae. This year I want to properly grow my instagram account.
At the moment I'm a bit of a lurker though and will just post every couple of days. I also only really scroll through and like things, because I'm always watching stories. Stories are the best things ever. I love that little insight into someone else's day.
I'm also hoping that Instagram live rolls out soon, because I can't wait to jump on there and start broadcasting live when I'm out doing a shoot, or on a day trip somewhere.
So I'm going to spend more time on Instagram and start conversations on there instead of always defaulting to twitter for my chats.
Getting to know you
The blogging community is huge and I only really stay in my circles although it is constantly growing. I want to get to know as many of you guys as possible. My readers, my followers and just generally be a total extrovert.
I'd also like to get involved in some events this year. It's something that I have avoided due to numerous reasons, whether it's cost, distance or just being too nervous to get involved.
No more of that, I'm going two footed in on this year and making everyone my friend.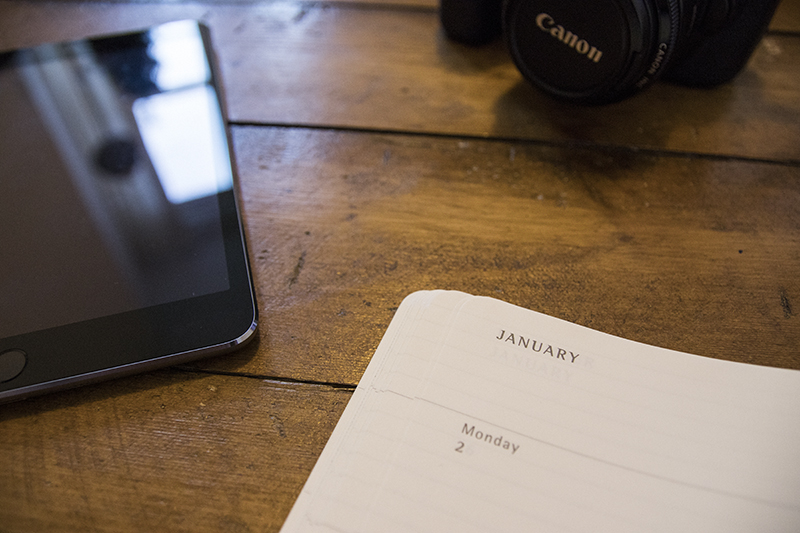 Career Goals
Everyone wants to make more money, but I think what they really mean is that they want to make enough money to free up their time. Unfortunately making more money at a job usually requires that you work more hours or take on more responsibilities.
This year I want to try and increase my secondary income to allow me to pursue different career paths such as becoming a freelancer.
If this comes from my blog then that would be a dream.
I don't expect my blog to be able to provide me with anything near that, but I'll try my best to create more opportunity from it.
Health & Fitness Goals
Finally getting those abs to show
I have been going to the gym for a number of years now and have never actually reduced my bodyfat percentage enough to have visible abs. It's something that I set out to do from the start, but have always let myself down through lack of self-control with my diet.
This year is going to be the year.
For definite, I will be doing a lot more meal prep, a lot more tracking and a lot better choices this year in order to get the maximum return from the time I spend in the gym.
Document my fitness journey
To ensure that I am keeping myself as accountable as possible, I'm going to document my fitness journey on my blog, youtube, and social media.
This will hopefully help keep me on track if I can have you guys shouting at me.
Hopefully, it can also help to spur others to stay on track if they have someone else to check in with, so feel free to hit me up if you want an accountability buddy. I'd be all for that.
Drink more water
I don't drink enough water. I always default for fizzy drinks or squash and I just need to get more H2O into my system as I know it will help keep my skin healthy, my body healthy and just generally to stop myself drinking so much rubbish.
This year I'll aim to drink at least 2litres a day. Should be easy enough….right?
So there you have it. Those are my goals for this year.
I'm sure I can smash them all, but only time will tell.
What are your goals for 2017? I'd love you to leave yours in the comments below or even link me to your own goals posts.